Things to Do in Amsterdam: Your Ultimate Guide to Exploring the City
Amsterdam is a beautiful city that offers a wide range of activities for tourists to enjoy. Whether you are interested in art, history, food, or nightlife, there is something for everyone in this vibrant city. From world-class museums and historic landmarks to trendy restaurants and bars, Amsterdam has it all. Here are our top things to do in Amsterdam.
One of the most popular attractions in Amsterdam is the Van Gogh Museum, which houses the largest collection of Van Gogh's paintings and drawings in the world. Visitors can also explore the Rijksmuseum, which features art and artifacts from Dutch history and culture. For those interested in learning about the city's history, the Anne Frank House is a must-visit destination.
Aside from museums and landmarks, Amsterdam is also known for its picturesque canals and beautiful parks. Visitors can take a boat tour through the city's canals or enjoy a picnic in Vondelpark. For those who enjoy shopping, the Nine Streets district offers a unique selection of boutique shops and trendy cafes. With so much to see and do, Amsterdam is a city that should be on every traveler's bucket list.
Things To Do In Amsterdam – Top Attractions
Amsterdam is a city with a rich cultural heritage and a vibrant modern scene. Visitors to the city will find an abundance of things to see and do. Here are some of the top attractions in Amsterdam:
Museums
Amsterdam is home to some of the world's most famous museums. The Rijksmuseum is one of the most popular, with its collection of Dutch art and history. The Van Gogh Museum is another must-visit, with its extensive collection of works by the famous Dutch painter. The Stedelijk Museum Amsterdam is a modern and contemporary art museum that is also worth a visit.
Canals
Amsterdam is famous for its canals, which are a UNESCO World Heritage Site. Visitors can take a canal cruise to see the city from a different perspective. The canals are also a great place to stroll and take in the sights and sounds of the city.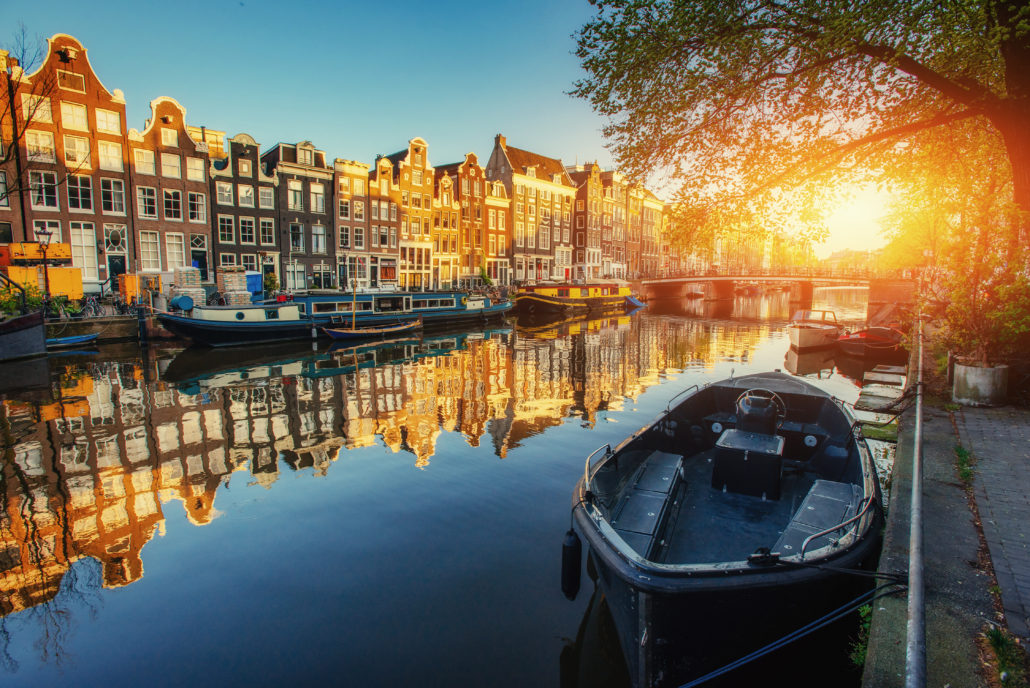 Parks and Gardens
Amsterdam has many parks and gardens where visitors can relax and enjoy the natural beauty of the city. Vondelpark is the largest park in Amsterdam and is a popular spot for picnics and outdoor activities. The Hortus Botanicus Amsterdam is a botanical garden that is home to many rare and exotic plants.
Red Light District
The Red Light District is one of Amsterdam's most famous attractions. Visitors can take a guided tour of the area to learn about its history and culture. The area is home to many bars, restaurants, and shops, as well as the famous red-lit windows.
Things To Do In Amsterdam – Food and Drink
Amsterdam is a foodie's paradise, with a wide array of local delicacies, restaurants, bars, and cafes to choose from. Whether you're looking for a quick bite or a fancy dinner, Amsterdam has something for everyone.
Local Delicacies
When in Amsterdam, be sure to try some of the city's local delicacies. One of the most famous is the stroopwafel, a thin waffle cookie filled with caramel syrup. Another must-try is the bitterballen, a deep-fried meatball served with mustard. For a sweet treat, try the poffertjes, small fluffy pancakes served with powdered sugar and butter.
Restaurants
Amsterdam has a diverse restaurant scene, with options ranging from traditional Dutch cuisine to international fare. For a taste of local cuisine, head to De Kas, a farm-to-table restaurant that uses fresh, seasonal ingredients. For a more upscale experience, try Restaurant C, which offers a modern twist on classic Dutch dishes. If you're in the mood for something international, check out Bussia, an Italian restaurant known for its homemade pasta.
Bars and Cafes
Amsterdam is known for its cozy cafes and lively bars. For a classic Dutch experience, head to Cafe Hoppe, one of the city's oldest bars. If you're looking for a trendy spot, check out the Pulitzer Bar, located in a historic canal house. For a more laid-back vibe, try Cafe de Koe, a local favorite known for its relaxed atmosphere and great beer selection.
Shopping
Amsterdam is a shopper's paradise, with plenty of options for everyone. From high-end shopping to vintage and secondhand stores, there is something for every budget and taste. Here are some of the best shopping areas in Amsterdam:
Markets
If you're looking for a bargain or just want to experience the local culture, Amsterdam's markets are a must-visit. The Albert Cuypmarkt is one of the most famous markets in Amsterdam, with over 300 stalls selling everything from fresh produce to clothing and souvenirs. The Dappermarkt is another great option, with a focus on food and household items. For a unique experience, check out the IJ-Hallen flea market, which takes place once a month and offers a wide variety of vintage and secondhand goods.
High-end Shopping
If you're looking for luxury shopping, Amsterdam has plenty of options. De Bijenkorf is a high-end department store located in the heart of Amsterdam, with a wide selection of designer brands. P.C. Hooftstraat is another popular shopping destination, with stores like Louis Vuitton, Chanel, and Gucci. For a more unique shopping experience, check out De 9 Straatjes (9 Streets), a picturesque area with independent boutiques and specialty shops.
Vintage and Secondhand
Amsterdam is also known for its vintage and secondhand stores, which offer a more sustainable and affordable shopping option. Episode is a popular vintage store with multiple locations in Amsterdam, offering a wide selection of clothing and accessories from the 60s, 70s, and 80s. Zipper is another great option, with a focus on vintage and retro clothing. For secondhand designer items, check out Designer-Vintage, an online marketplace with a showroom in Amsterdam. Overall, Amsterdam offers a diverse shopping experience with something for everyone. Whether you're looking for high-end luxury or a unique vintage find, Amsterdam's shopping scene won't disappoint.
Things To Do In Amsterdam – Nightlife
Amsterdam is known for its vibrant nightlife scene, with a variety of options for all tastes. Whether you're looking for clubs, live entertainment, or bars and pubs, there's something for everyone. Here are some of the top options to check out:
Clubs and Music Venues
Amsterdam has a thriving club scene, with many venues offering a range of music genres for all tastes. Some of the most popular clubs include:
Melkweg – This music venue hosts a variety of events, from techno to hip-hop to indie rock.
Dekmantel Festival – This annual festival is a must-visit for techno and electronic music fans.
Club NL – This underground club is known for its house and techno music.
Live Entertainment
If you're looking for live entertainment, Amsterdam has plenty of options to choose from. Some of the best venues include:
Paradiso – This music venue hosts live music, comedy shows, and more.
Madame Tussauds – This wax museum offers interactive experiences, including live performances and virtual reality experiences.
Boom Chicago – This comedy club offers improv shows and stand-up comedy.
Bars and Pubs
If you're looking for a more laid-back evening, Amsterdam has plenty of bars and pubs to choose from. Some of the best options include:
Café Schuim – This cozy bar offers a wide selection of beers and live music.
Café Cox – This popular bar is known for its friendly atmosphere and affordable drinks.
Brouwerij 't IJ – This brewery offers a variety of craft beers and a great outdoor terrace.
Outdoor Activities
Biking
Amsterdam is known for being a bike-friendly city, and there are plenty of opportunities for visitors to explore the city on two wheels. Many bike rental shops are available throughout the city, and visitors can rent a bike for a few hours or a full day. Some popular biking routes include the Vondelpark, Amsterdamse Bos, and the scenic Amstel River. Visitors can also take guided bike tours to learn more about the city's history and culture.
Boating
Amsterdam is also known for its beautiful canals, and visitors can explore the city from a different perspective by taking a boat tour. Many boat tour companies offer a variety of options, including guided tours, private tours, and dinner cruises. Visitors can also rent their own boat and explore the canals at their own pace. Some popular canal routes include the Herengracht, Keizersgracht, and Prinsengracht.
Walking and Hiking
For visitors who prefer to explore the city on foot, there are plenty of walking and hiking options available. The Vondelpark is a popular destination for walkers and joggers, and visitors can also explore the city's many parks and gardens. For those who want to get out of the city, there are several hiking trails in the nearby Amsterdamse Bos and Waterland areas.
Some popular walking tours include the Red Light District tour, the Jordaan tour, and the Anne Frank walking tour. These tours offer visitors a chance to learn more about Amsterdam's history and culture while exploring the city's unique neighborhoods.